Wombat Stew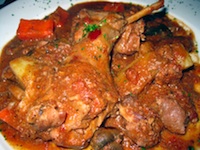 Ingredients
1 Wollombi Wombat Farm wombat
2 onions, sliced
6 garlic cloves, peeled
3 large tomatoes, peeled and chopped
2 teaspoons tomato paste
3 potatoes, peeled and quartered
6 carrots peeled and sliced
1 cup peas
2 bay leaves Mixed herbs
1 teaspoon olive oil
1 stock cube Salt and pepper
1¼ cups red wine
Flour
Method
Add salt and pepper to flour. Mix well.
Roll wombat portions in seasoned flour.
Cook wombat in olive oil until slightly brown.
Add onions, garlic, tomatoes and potatoes to the pot. Pour some of the wine over the ingredients. Add tomato paste, stock cube and bay leaves.
Add kidney, liver and peas. Bring to a boil and simmer for about 1½ hours. Add more wine if sauce begins to dry up.
Wombat Pie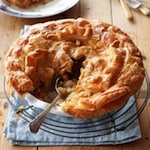 Ingredients
1 Wollombi Wombat Farm wombat cut into pieces
4 brown onions
1 carrot, coarsely chopped
1 stick celery, coarsely chopped
125g butter
2 cloves garlic, crushed
1 tsp mixed spice
410g can tomato puree
Salt and freshly ground black pepper
½ cup parmesan, finely grated
½ cup flat-leaf parsley, chopped
6 sheets frozen puff pastry, partially thawed
1 egg, whisked
Mashed potatoes, to serve
Extra parsley leaves, to serve
Method
Put wombat pieces into a large saucepan and cover with cold water.
Place over high heat.
Bring to the boil.
Reduce heat to medium-low.
Add one coarsely chopped onion, carrot and celery.
Simmer, skimming top of mixture, for 50 minutes or until meat is falling from bone.
Remove from heat and cool.
Drain.
Discard vegetables.
Remove meat from bones and set aside. Discard bones.
Preheat oven to 200°C.
Melt butter in a large saucepan over medium heat.
Add three thinly sliced onions and cook, stirring occasionally, for 10 minutes or until soft but not coloured.
Add garlic and mixed spice and cook for two minutes.
Add tomato puree and season with salt and black pepper.
Stir meat into onion mixture and simmer for 10 minutes.
Remove from heat and stir through parmesan and parsley.
Cool.
Line 6-8 individual pie dishes with pastry.
Spoon mixture into pie dishes.
Cover tops with pastry, trimming excess.
Place pie dishes on baking tray.
Brush with egg wash.
Cook for 20 minutes or until golden and crisp.
Wombat Curry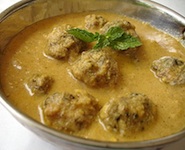 Ingredients
1 Wollombi Wombat Farm wombat cut into pieces
30g unsalted butter
3 large onions
25 mm piece of fresh ginger
3 teaspoons ground coriander powder
2 cups chicken stock
1 teaspoon garam masala
250g corn kernels
Salt
Method
Soak the wombat for a few hours or overnight in water to cover with a teaspoon of lemon juice added to whiten the meat.
Drain off water and dry the wombat pieces well.
Slice the onions and ginger very finely.
Heat butter and brown the wombat pieces on high heat.
Reduce heat when browned and add onion and ginger and continue frying for a few more minutes.
Mix the ground coriander with the chicken stock and add to the pan with a good pinch of salt.
Cover and simmer for about 2 hours or until the wombat is tender. (If the liquid is reduced too much add more water as necessary.)
Finally sprinkle in the garam masala and the sweet corn and simmer for another 5 to 10 minutes.
Serve with rice and enjoy and enjoy!!